Jesu wa  lati fi ara re rubo fun gbogbo eniyan ki a le ba kuro ninu idibaje, ki a le ba ni ibasepo pada pelu Olorun. Eto yii ni o di kikede lati ipilese iwaseye eniyan. Olorun buwolu ninu irubo Abrahan nipa titokan si orioke Moriah ni bi ti ebo Jesu yio o ti di mimu wa. Nigbana ni ebo irekoja awon Ju je itoka ojo ninu odun ti Jesu yio di irubo.
Ki ni idi Pataki ti ebo re fi se Pataki? E yi je ibeere ti o ye lati beere. Bibeli so ofin kan nigba ti o wi pe:
Iku ni ere ese…. (Romu 6:23)
"Iku" tumo si "ipinya". Igbati okan wa piya kuro ninu ara wa, a ku niti ara. Bee gege, ni isinsiyi ni ani ipinya kuro lodo Olorun ninu emi. E yi je otito nitori pe Olorun je mimo (alailese) nigbati awa wa ninu idibaje lati inu iseda wa lati ipinle wa bee ni a si nde si.
A le se itoka eyi nipa lilo ogbun ti ko ni isale ti Olorun wa ni orioke abala kan ti awa naa si wa ni abala keji pelu. Gege bi eka igi ti a ge ti maa ku, bee gege ni a ke ara wa kuro lodo Olorun ti a si di oku ninu emi.
Ipinya yii lo fa idalebi ati iberu. Ohun ti a wa nse  ni pe a nmo afara lati wa rekoja lati iha ti wa ti se iku si iha ti Olorun. A maa nse eyi ni oniruru ona: lilo ile ijosin, gbigbe esin leri, jije eni rere, reran awon otosi lowo, ijiro, gbigbiyanju lati ran ni lowo, gbigba adura si ati beebe lo. Nipataki ni awujo ti ijo Kristiani ibase awan ijo tile liana bi won ti se nkan, katoliki tabi awon ijo ti ko gba idari ti Popu, opo eniyan ni war o pe ise isin lati ni eri ni Olorun nbere lowo wa. Awon ise yii lati ni ere le soro gan ati pe ni fifi won sile tun le mu ewu dani. Afiwe yi wa ninu aworan ti o kan.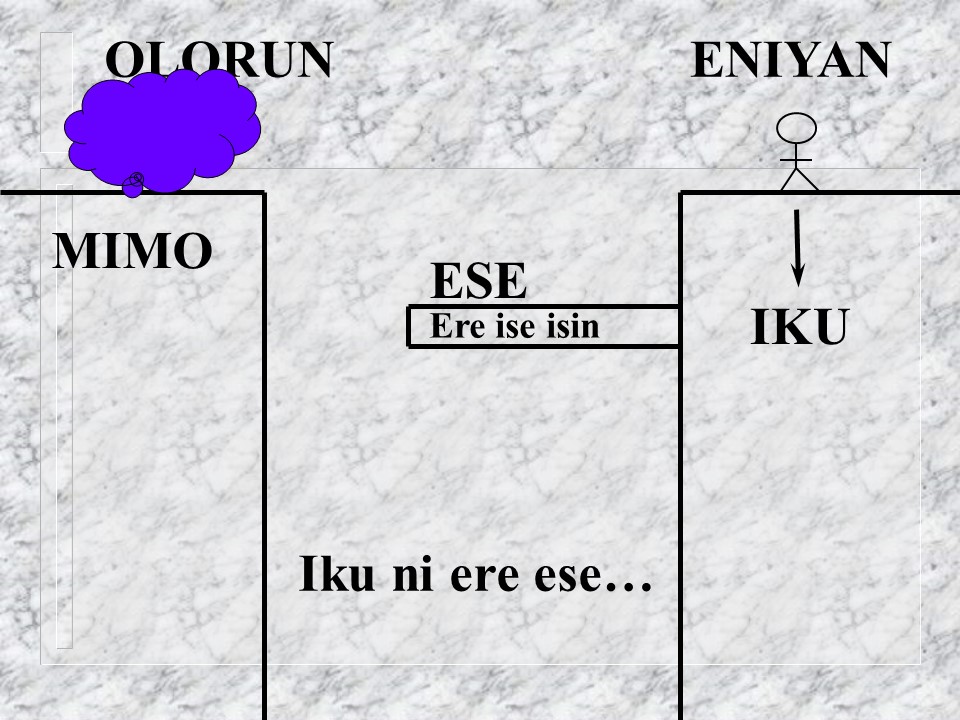 Isoro to wa nibe nipe igbiyaju wa, ere isesin, ati isesi wa, bi o tile se pe won o lodi, won ko to nitoripe iku ni gbese ese wa. Awon igbiyanju wa dabi afar ti on gbiyanju lati di ipala to ya kuro lodo Olorun- sugbon ni aeyinwa ti ko lee se be.
Eleyi ri bee nitoripe iserere ko le yanju isoro wa. A le fiwe ki eniyan maa loje efo lati wo arun jejere san. Ki eniyan maa je efo nikan kii se ohun to lodi, o ti e le dara, sugbon ko le wo arun jejere san. Fun arun jejere eniyan nilo itoju ti o yato gedengbe.
Ofin yi je iroyin ti ko dara – ko dara de bi pe a ko fe maa gbo seti beeni a si kun aye wa pelu orisirisi eto ati awon oniruru, ti a si lero pe ofin yi yio lo kuro. Sugbon Bibleli tepele mo ofin ese yi ati iku lati ri ikobiarasi wa lati ni ifojusun lori iwosan ti o roru ti o si lagbara.
Iku ni ere ese, sugbon…. (Romu 6:23)
Oro kekere "sugbon" fihan pe ona ikoni naa ti fe yi pada, si iroyinrere ti ihinrere – imularada. O se afihan iroyinrere ati ife Olorun:
Iku ni ere ese, sugbon ebun Olorun iye ayeraye ninu Kristi Jesu (Romu 6:23)
Iroyinrere ti ihinrere ni pe irubo iku Jesu to fun afara ti ipinya larin awa ati Olorun. Awa mo eyi nitoripe ojometa leyin iku Jesu  ji dide ninu ara, ti o si di aye ni ajinde ti a fojuri. Opo ninu wa ni ko mo idaniloju ajinde Re. Awijare ti o fese mule ni a leri ninu idanileko gbogbogbo ti mo se ni ile iwe unifasiti (itoka aworan wa nihin). Irubo Jesuje asotele ti o farahan ninu irubo ti Abraham se ati irubo  irekoja. Awon ami ti o ntoka si Jesu wa nibe fun wa lati ran wa lowo lati ri imularada.
Jesu je eniyan tio gbe igbe aye ti ko ni ese. Nitorina O le fi owo kan abala ti eniyan ati ti Olorun ki osi mu alafo ti o pin Olorun ati awon eniyan niya. Ohun ni afara si iye ti a le se afihan re ninu aworan yii:
Kiyesi bi a ti fi irubo Jesu yii fun wa. O wa gege bi ebun. Ronu lori awon ebun. Bo le wu ki ebun je, bi o ba je ebun nitooto, o je ohun ti o ko sise fun ati wipe o ko ni nipa pe otosi o. Bi o ba ni ebun nipa ohun ti o se kii se ebun mo, a je owo oya! Bakana o le kun oju osuwon tabi ri irubo Jesu. A fi fun o gege bi ebun ni. Bi o ti ri niye.
Ki ni ebun? O je 'iye ayeraye'. O tumo sip e ese ti o mu iku wa fun iwo ati emi ni a ti fagile. Afara iye Jesu ni o fun wa ni anfani lati sopo mo Olorun pada ti a si gba iye—ti o wa titi lai. Olorun nife reati emi pupo. Be ni o ti lagbara.
Bawo ni iwo ati emi yio wa se le re afara iye yi ja? Lekan si, ronu lori awon ebun. Bi enikan ba fe fun o ni ebun, o gbodo gba. Nigba ti a ba fe funni ni  ebun, ohun meji ni a le mu ninu re. Kiko ebun naa tabi gbigba ebun naa. Bee gege ni ebun yii gbodo di gbigba. Kii se ohun ti a le fi ogbon ori gbagbo, ni imo ninu re tabi oye yekeyeke.  Apare yii wa ninu aworan ti o kan, nigba ti a bar in lori afara nipa yiyi pada si Olorun ti a si gba ebun ti o fun wa.
Irubo Jesu je ebun ti enikokan wa gbodo pinnu lati gba. Bawo la se gba ebun yi? Bibeli wipe:
Gbogbo eni ti o ba kepe oruko Oluwa ni a o gbala (Romu 10:12)
Kiyesi pe ileri yi wa fun 'gbogbo eniyan'. Lati igba ti o ti ji dide kuro ninu oku, Jesu wa laaye titi di isinsinyi O si je 'Olorun'. Bi o ba kepe yio gbo yio o si fie bun re fun o. Kepe ki osi beere lowo re—nipa bi ba ni ijiroro. Boya o ti se eyi ri. Adura ti o le to o sona wa ni isale. Kii se alupaida tabi ogede. Kii se oro ti o nse ni gboogi ni o mu agbara wa. Igbagbo iru ti Abrahamu ti a ni sii lati fun wa ni ebun yi. Bi a ti n ni igbekele ninu re, yio gbo ti wa yio o si dahun. Ihinrere lagbara, o si rorun,. Tele itoni yii ti o ba rip e o wulo fun o
Jesu Oluwa, mo rip e pelu ese mi, mo ni iyapa kuro lodo Olorun. Bi o tile se pe mo ntiraka, ko si akitiyan tabi irubo nipa temi ti o le di iyapa yii. Sugbon o ye pe iku re je irubo lati we ese mi nu patapata. Mo gbagbo pe o ji dide kuro ninu oku lehin irubo re, beeni mo mo pe irubo re to. Mo bebe pe ki o joo we mi nu kuro ninu ese mi, ki o si mu mi pada sodo Olorun ki nba le ni iye ayeraye. Mo o fe gbe igbe aye eru si ese, jowo gba lowo ese. Ope ni fun o Jesu Oluwa, fun gbogbo e yii ti o se fun mi, nje ki iwo maa to mi ni igbe aye mi, ki emi ki o le ma ate le o Oluwa mi.

Amin.